Elvis DAM Webinar Series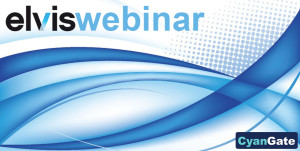 WoodWing will present three Elvis DAM webinars on efficient creation and distribution of digital content.  The webinar series focuses on how to leverage current existing systems (WCM, CRM and PIM) with a digital asset management system (DAM).
Elvis DAM is excellent to manage marketing content, workflows and archiving assets.  However, other existing systems contains valuable information that is not stored in the DAM, therefore different platforms need to talk to one another to share data.  By integrating Elvis DAM with other platforms, companies gain the following:
Increase speed and efficiencies by automating the processes
Maintain brand consistency
Centralize business intelligence across platforms to make better decisions
WoodWing's Content Eureka! will cover these topics in three different sessions.  Use the links below to sign up.

Web Content Management (WCM) and DAM Integration Benefits
June 11 1:00 PM EDT / 10:00 AM PDT
Web content management relies upon DAM having the latest and correct assets to use in campaigns and advertizing.  Integrating Elvis DAM and a WCM brings the following advantage:
Saves time sending assets back and forth between marketing, creative and web editors.
Information assurance by using the right assets at the right time.
Connect the marketing data from the website back to DAM so that marketing can measure a campaign's effectiveness.
During the presentation, WoodWing will provide web marketing examples.
Product Information Management (PIM) and DAM Integration
June 18 1:00 PM EDT / 10:00 AM PDT
Product Information Management systems contain non-visual information about a product that may need to be updated time-to-time.  Likewise, DAMs need to know when product information changes to make different versions of assets.  Integrating PIM and DAM reduces the cost and  time synchronizing the information in the DAM and PIM by automating the process.
During this webinar learn:
The best practices for digital visualization merchandising
How to leverage the information contained in PIM within Elvis DAM
How the PIM-DAM integration benefits e-commerce
Customer Relationship Management (CRM) and DAM Integrations
June 25 1:00 PM EDT / 10:00 AM PDT
A common complaint among marketers is sales rarely uses the correct marketing collateral.  Sales complain the turn around time from marketing is too long especially if sales is required to make presentations on the fly or update records of each customer or prospect.  Customer service and support are often forgotten in the equation.  Customer service and support require the correct information from both sales and marketing to know how to resolve customer issues.
Salesforce.com and other CRMs were built to solve the communication problem between support, customer service, sales and campaigns.  However, CRMs falls short on two aspects:
Marketing departments tends to only operate in the DAM whereas other sections of a company are constantly in the CRM.
The Campaign Tabs of the CRM do not contain a central repository on where to store marketing content or use and repurposing.
The solution to the problem is linking the DAM directly to the CRM.  (That is why CyanGate developed the Salesforce MAM Bridge as a solution.)  In this webinar, learn:
How sales and services departments can leverage DAM within their platforms.
How the connection benefits marketing departments to collect business intelligence to improve campaigns.