Enterprise World 2018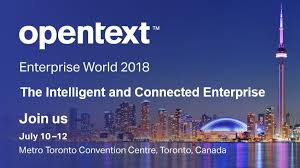 CyanGate is looking forward to attending OpentText's Enterprise World in Toronto from July 8 – 12. Enterprise World is the premiere conference for OpenText Customers and Partners covering all OpenText solutions. There are several workshops and break out sessions for OTMM users including two case studies from Pandora Media and Monster Energy. The OTMM Users Advisory Council meets during Enterprise World. If you are an OTMM user and not active on the Advisory Council please contact your OT Account Manager or us to become involved.
Annual Media Management Dinner
For those heading to the conference in Toronto, we are organizing the Annual Media Management Dinner for the DAM attendees. The dinner will be Wednesday, July 11 and is sponsored by CyanGate, Risetime and OnPrem. It will be at the Delta Hotels Toronto, which is within walking distance of the Convention Center. The dinner is open to all OTMM, SAP DAM & MediaBin users, but you must register to attend. OpenText employees and attendees looking for digital asset management solutions are welcome to attend.
Register For The Dinner
FADEL Pre-Dinner Cocktail Reception
CyanGate's partner, FADEL, will be hosting a pre-dinner cocktail reception in the same hotel at The Roof at SOCO, so that attendees can go to both events. They will also post an invite and registration form. FADEL provides several solutions for managing rights, intellectual property and royalties. FADEL solutions are vendor neutral, however they have an excellent integration with OpenText Media Management and are an OpenText Partner.
Arriving Early?
If you are arriving early and would like to meet us or receive more details about the events, contact us.