FADEL Rights Cloud Connector for OpenText Media Management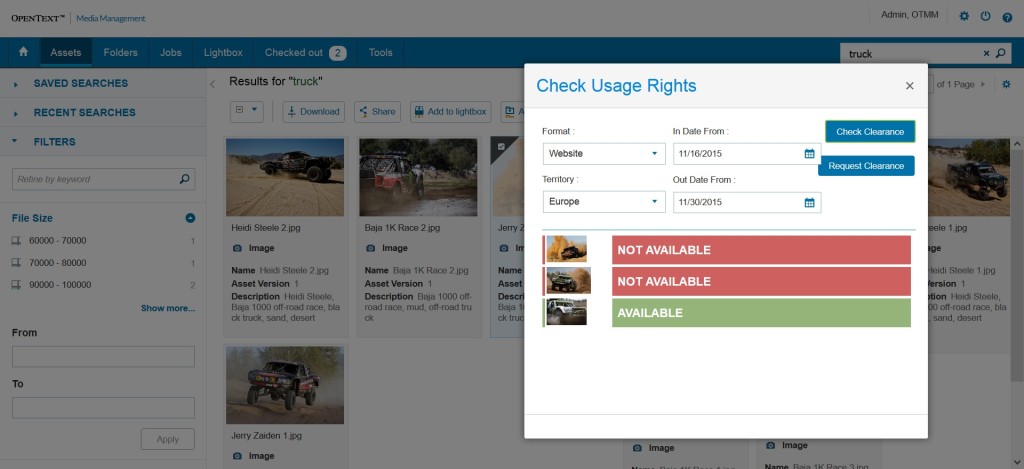 Talent, usage and rights restrictions can be complicated: where an asset can be used, when can an asset be used, and how can an asset be used, etc. The situation becomes more complicated when multiple agreements are applied to different elements within a digital assets. To provide clarity for complex usage rights associated with assets, OpenText Media Management now integrates with FADEL Rights Cloud through the FADEL - OTMM Connector.
Clearly see the rights associated with an asset.
Apply contract agreements to assets and regulate asset use.
Request usage exceptions for assets from the legal department in a formal workflow.
Expand the rights and talent management capabilities within OTMM.
Connector Features and ROI
Multi-Value select functionality for Territory and Usage in Check Clearance.
Apply talent contract and agreements to assets.
Manage Rights functionality for adding and removing existing agreements to assets.
Hover preview of core agreement details.
Agreement details tab in asset detail view.
Ability to basic and advanced search by territory, usage, in and out dates.
Ability to filter assets by territory, usage, in and out dates.
A single "rights" source across agreements, talent and assets.
Arms organizations with content governance and compliance and smart insights for advertising content.
Gives at-a-glance visibility to all stakeholders of when, where and how any content can be used
Plugs directly into OpenText Media Management with no need for users to access other applications or tabs.
Tracks against online usage, asset expirations and violations.
Request A Demo
Contact us below to schedule a demo or inquire more.
What Is FADEL Rights Cloud?
From creative to delivery, Rights Cloud gives you the "rights" answer, on demand.
Rights Cloud by FADEL allows marketers and advertisers to easily capture and manage agreements and rights for models, photographers and other rights holders – eliminating the dependency on business affairs and ensuring rights are no longer subject to interpretation. The solution allows you to check content rights real-time, giving you at-a-glance visibility into terms of use from directly within your creative, distribution or asset/content management platform.
With Rights Cloud, creatives, brand managers and advertisers gain a powerful ad tech tool that significantly improves speed to market, maximizes investments and protects the brand.
Rights Cloud supports digital asset rights management as a standalone solution, or you can integrate with your DAM, MAM, CMS, or 3rd party rights management system.
Rights Cloud enables companies to:
Speed Ad Production and Distribution: Gain simple, at-a-glance confirmation of which asset – print, digital, video and talent – can be used when, where and how.
Make Your Investments Count: Cut cost with increased efficiencies and the ability to assess all creative inventory for optimum content reuse.
Protect Brand Equity: Safe guard your brand from non-compliant content use that can cost millions in penalties, campaign rework, and negative PR.