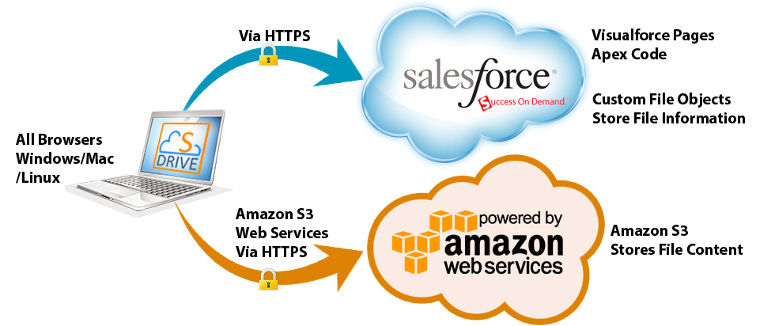 What is S-Drive?
S-Drive is an easy, secure and simple file management and file distribution platform that provides unlimited Salesforce.com storage. Users can seamlessly upload files and attachments of any size to Amazon S3 from their Salesforce accounts. Because all content becomes available globally on cloud storage, users can share files with customers and contacts without file size limitations and excessive storage costs. All storage is completely handled by Amazon S3 cloud storage system, which includes enterprise file storage, secure transmission and accessibility.
S-Drive turns the company network drive into a globally available, scalable and cost-effective online platform where you can easily store and share documents, images, video and all other types of content using a simple Windows Explorer type of interface. S-Drive is perfect for a RFP, contract, presentation, marketing brochure and product image repository. In addition, this cloud storage option combined with Salesforce.com is an ideal platform for electronic software delivery, easy case file management, document management and custom content centric application development. With S-Drive, file sharing becomes as easy as sending a link so recipients can download the file directly from your secure site. For extra security, you can set expiration rules to define the amount of time files are accessible.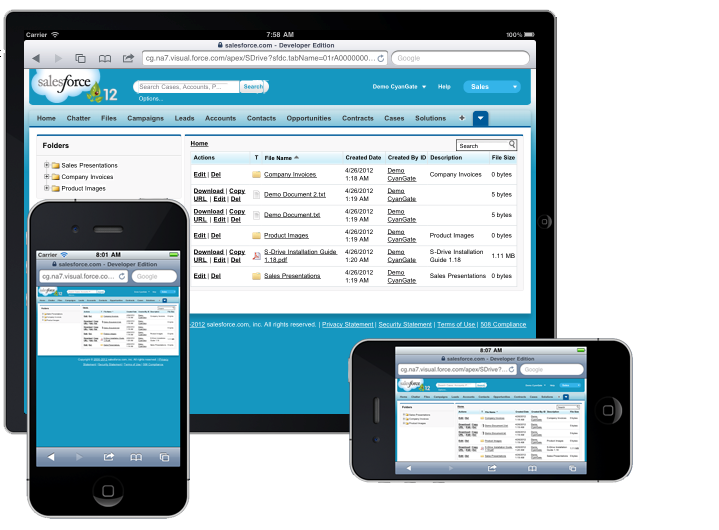 S-Drive Highlights
S-Drive is available on AppExchange and it is Salesforce1 compatible.
Unlimited storage: Provides cost-effective storage for the entire organization
No file size limit: Upload and store files of any type and size
Easy to use interface: Promotes collaboration between remote offices and users
Easy file sharing: No more FTP, just send a link
Secure storage: using Amazon Simple Storage Service (Amazon S3)
Available on AppExchange for Salesforce.com
Editions Available
Professional Edition
Enterprise Edition
Unlimited Edition
Developer Edition
Consolidate your company files in one location. Keep them safe. Access anywhere, anytime. Try S-Drive Free today!
For Support, open a ticket at S-Drive Support
For Questions, Contact S-Drive Support Team
Visit S-Drive Website