Elvis DAM Digital Asset Management Solution
CyanGate
offers
Elvis DAM
as a
scalable
,
digital asset management
solution with
elasticsearch
and the ability to
handle up to one billion assets
.  Elvis DAM is a solution for departments and companies of all sizes and is an excellent solution for those seeking an alternative to OpenText Media Management.  CyanGate sells, supports and provides services for Elvis DAM. 
Get Elvis DAM today
for free. Our
Elvis DAM Services
are:
Implementation Integration Customization Hosted Solutions Training Support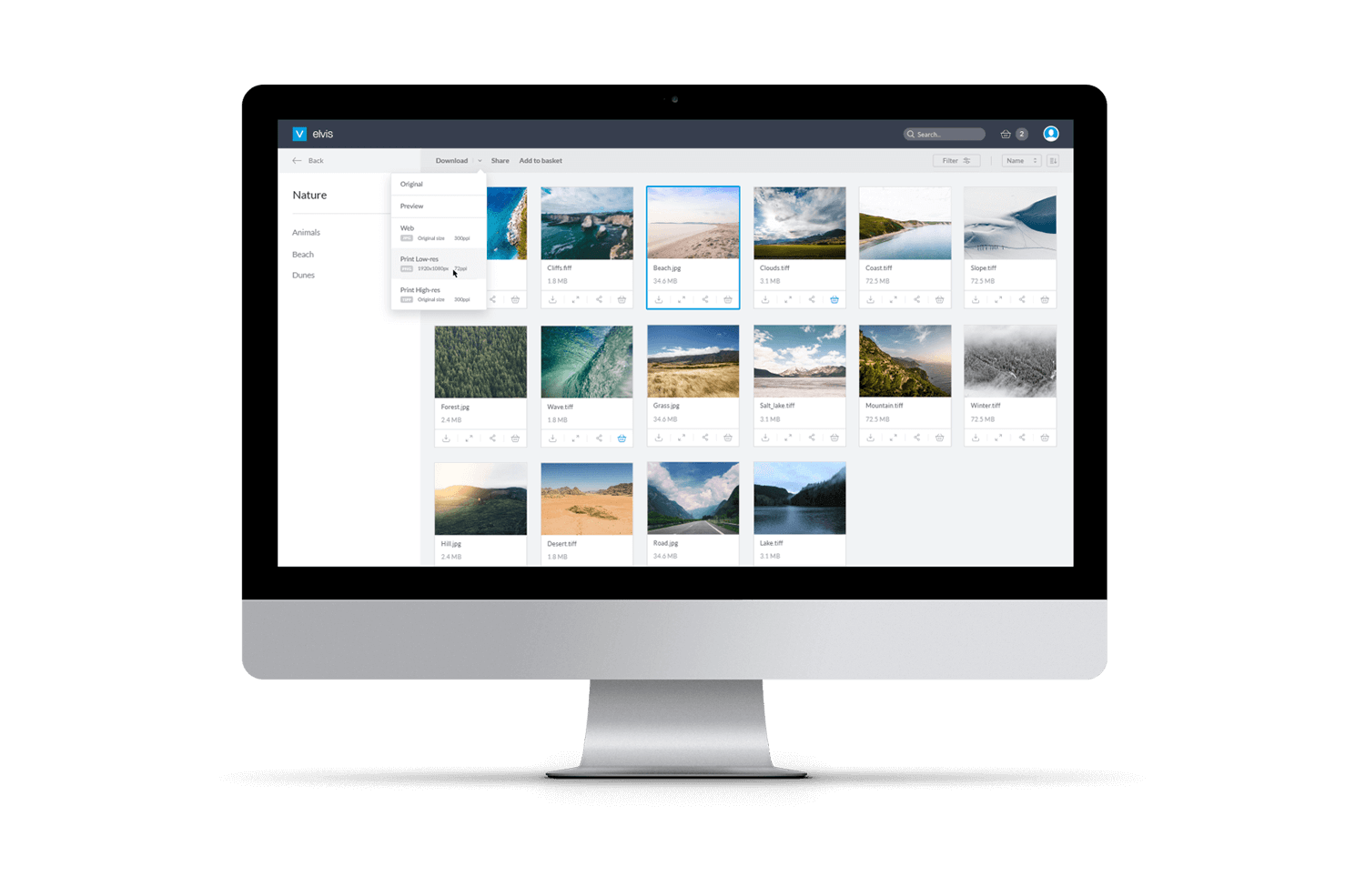 The Most Powerful Search Engine
Elvis DAM's indexing technology
are
Solr
and the
Lucene
search engine, the same search engine used by LinkedIn and Wikipedia. Searching performance is incredible - returning results in milliseconds. The Elvis DAM index allows extreme scalability and indexes all text-based material like XML, HTML, PDF, Word, and metadata of the assets.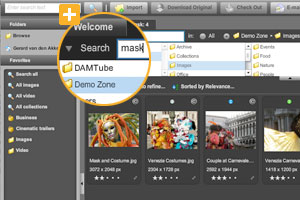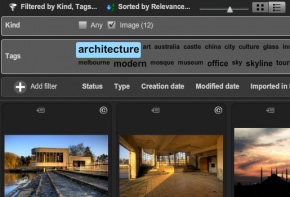 Elvis DAM has
faceted search
and
smart filtering
.  Since all metadata and text is indexed, Elvis DAM can offer a wide variety of facets and filter options. Filter, sort and use the tag cloud on any metadata field or a combination to quickly narrow down results in a large index. All filters and searches can be saved as favorites, helping users get off to a quick start.
Scalable with Elasticsearch
Elvis DAM is
scalable
to manage vast quantities of digital assets. The search engine and
elasticsearch
allow Elvis to scale up with the quickly growing numbers of digital assets.  Currently, Elvis DAM is the only DAM that can handle up to one billion assets.  Search across millions of assets in milliseconds.
Elvis DAM is easy to install with self-optimizing index. To minimize IT effort and maximize performance, Elvis DAM is very easy to install and deploy in a matter of minutes, and self-optimizes its index. Flexible API Connecting and integrating Elvis DAM to a websites, Salesforce.com, CRM, CMS, WCM, MRM, editorial system like WoodWing's Enterprise or a web-to-print solution is easy due to the extensive API – RESTful and SOAP. External systems or websites can search, browse, download, upload and edit metadata through the API in Elvis DAM. There are a variety of Elvis DAM integrations readily available. Please contact us for information about these products.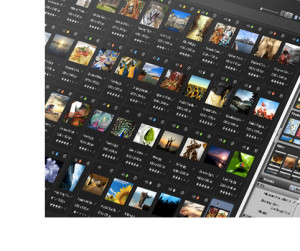 Highly Scalable Media Processing Engine
Elvis DAM renders all media and document formats in high quality
- video, images, RAW, Office docs, XML, HTML, PDF, InDesign, etc. Elvis DAM renders thumbnails and previews and reads out all embedded metadata. The results are lightweight, high quality previews representing the heavier originals.
Elvis DAM 5 has scalable server clustering. Using multiple processing nodes will scale up processing performance easily. A zero-configuration installation ensures a maximum of flexibility and only uses hardware when necessary for peak ingestion.
Elvis DAM indexes all text-based files will be fully text indexed in Elvis DAM. Due to the Elvis DAM integration with OpenCalais, the metadata of the text-based files will be enriched semantically. People, locations, events and more will be added as rich metadata in Elvis DAM. The Elvis DAM media processing engine is a very powerful engine that will render previews and thumbnails and read out all embedded metadata. Due to the optimized architecture, the processing engine will render up to 50,000 files per hour on Apple Hardware.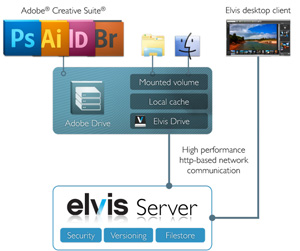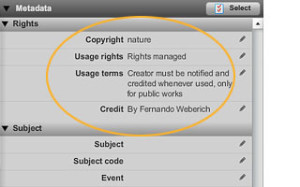 Elvis DAM extracts embedded and custom metadata, EXIF and XMP metadata, so camera information, copyright and keywords are all added to the Elvis search index. Elvis currently supports an extensive 400+ metadata list, but custom metadata can be configured to apply event or organization-specific information to the assets.


The best user interface on the market
All workflow roles configurable in Elvis DAM.
For designers, asset managers, photo editors and editorial users, there are distinct workflow needs in organizations to ensure a smooth workflow of assets from ingestion to end product. Elvis DAM has a very sophisticated permission and rules engine that can be configured to fit your organization's needs. Status workflows, selection workflows, metadata-based access, required metadata and extensive rights management all help to control in flexible way.
| | |
| --- | --- |
| | |
Elvis DAM is fast, intuitive and  easy to use because Elvis DAM has a user interface that is designed to be easy to understand. Clear buttons and logical interaction help the users find their way quickly. Within the Elvis DAM user interface a user will find familiar concepts. Tag cloud, tab-based browsing, folders, and filtering options are all there for the user to have a familiar experience. Elvis DAM's user interface matches user capabilities based on the profile and user's role. Only the functionality the user needs is present in the user interface. Also preferences in browser viewing can be set in the user profile. Furthermore, favorites of collections, folders, and searches can be saved in the profile, creating an interface that fits the user like a glove.
Elvis DAM natively integrates with Adobe Creative Suite (CS),  Adobe Creative Cloud (CC) and CC2014 with autovesrioning.  Users can drag and drop assets into either Adobe CS or Adobe CC and vice versa primarily with Photoshop, InDesign, and Illustrator or set Elvis DAM to open the application automatically when an asset is selected. During the drag and drop function, Elvis DAM will automatically detect an asset being checked-out, lock the asset from others while an asset is checked-out, and create a new version of the asset when the asset is checked-in.  When the asset is checked-in, Elvis DAM will automatically prompt a user to enter in data about the new version. For InDesign, Elvis DAM contains an InDesign Client that enables Elvis DAM to track all assets used in a InDesign file.  CyanGate offers a solution for connecting Elvis Drive with Adobe Premiere.  Contact us for more information on this solution.
Collaborate with external users with Elvis DAM web interface and Share Client. This interface allows Elvis DAM users to send collections of content to outside users that do not have an Elvis DAM login through the Share Client. External users can download and edit metadata and upload assets into collections and review and approve assets. The Elvis DAM-generated link to this interface will recognize if the device asks for the Flex or HTML5 version, making Elvis DAM beneficial on any device.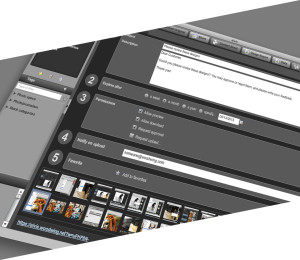 Elvis DAM's AIR desktop client
is the main Elvis DAM user interface designed for the intense user that needs easy access and a rich feature-set to manage assets. The Elvis DAM client has full desktop integration, while it also offers all functionality when the user is remotely connected over the internet or VPN. The Elvis DAM AIR client is easy to install and distribute, and updates can be broadcasted server-side, making Elvis DAM maintenance easy for the IT department.
Elvis DAM's Web Client
enables users to access Elvis DAM through an Internet Browser.  This feature is useful for large deployments of Elvis DAM and provides flexibility for users to access Elvis DAM on multiple devices.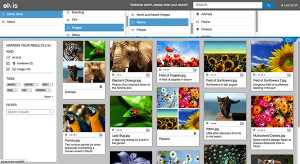 Elvis Review iPad App is a free iPad app enabling users to review and approve collections of assets.    Besides the review process, sales representatives can use the  iPad App to review collections of assets with their clients.

The Elvis DAM has file transformation capabilities enables users to transform image files by file type, size and resolution when downloading, enabling users to select what file format will fit their needs.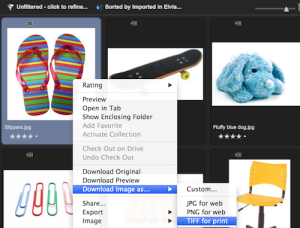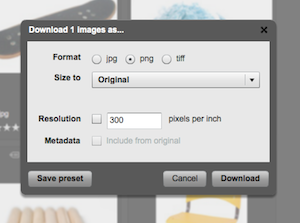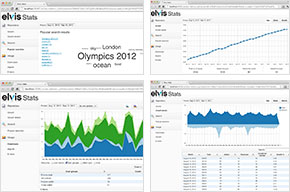 Elvis DAM contains administrator tools, plugins and customizable reporting functions to monitor asset and usage.  Administrators can use a variety of plugins to monitor photo use, geotag assets, create contact sheets, or search stock photography sites without leaving Elvis DAM. Elvis DAM contains plugins for administrator to automate tasks ranging from data mining, archiving, asset cleanup, and automating asset ingestion – such as from an ftp folder.  CyanGate can provide you a complete listing of open source plugins.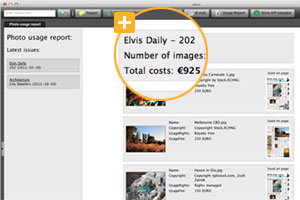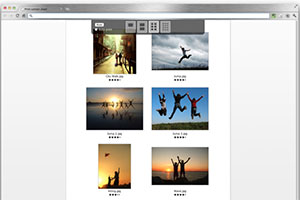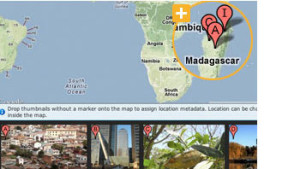 APIs and open source HTML5
With Elvis DAM you can bring the publishing of your digital assets and collaboration to any web based device. Branded video portals, stock photo sites and collaboration tools are just examples of what we already package for you. You as a customer or an experienced CyanGate consultant, can extend, brand and customize our client samples according to your needs, while you still profit from the best-in-class Elvis DAM media search engine. Using the Share Feature, send collections to customers for approval, share the latest images with colleagues, or publish rich media collections on any device with the HTML5 collaboration client enabling
mobile collaboration
.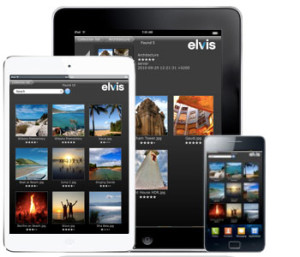 If you would like to syndicate your intellectual property, Elvis DAM offers an open-source syndication portal. Simply create your own custom media portal that profits from the best media search engine in the market today.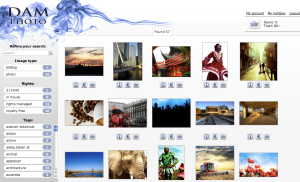 Elvis DAM provides a video portal to upload videos, images and more. Play and browse content on any device and profit from features like tag cloud, faceted search and more. With the Elvis DAM live search screen it's easy to create your own custom live search screen to use on your website, at events or in the newsroom. WordPress and CMS / WCM Integrations Elvis DAM has a plugin for WordPress integrations out-of-the-box enabling users to link Elvis DAM directly with their WordPress website.  Users can leverage the APIs to connect Elvis DAM to other CMS / WCM solutions.  From experience, CyanGate knows how to connect Elvis DAM with a variety of other solutions – Drupal, Adobe Experience Manager (CQ5), Ingeniux, SquareSpace, and Jahia to name a few.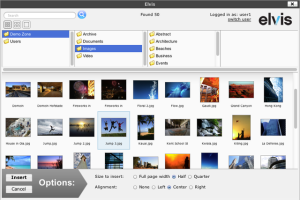 Additional information can be found here.
Elvis DAM has multiple deployment options.  Elvis DAM can be deployed on-premise, hosted or in the cloud. Contact sales if you would like to get an on-premise server trial or if you would like to discuss your requirements.