CyanGate Cloud Storage Plugin for OpenText Media Management

For those looking at gaining efficiency for
OpenText Media Management
(
OTMM
) by using
cloud storage
platforms
,
CyanGate
provides a plugin enabling to place  your content  in the cloud through our
Cloud Storage Plugin
.   OTMM has a pluggable interface that allows  
API based storage system
to be adopted to work with Media Management.  The Cloud Storage Plugin allows the
Artesia / OTMM
to upload, download and delete any content stored on your Cloud Storage Platform(s).  You can upload different types of content to different cloud storage platforms by using customized Asset Interceptor with the Cloud Storage Plugin.
The Cloud Plugin is compatible with the following Object Storage Platforms: Amazon Web Services, Windows Azure, Rackspace, NetApp, Scality, CleverSafe, HGST ActiveScale, Verizon Cloud Storage, Quantum Lattus and Google Cloud Storage.

Key Features
Supported Platforms
Compatible with OTMM 7.3.1, OTMM 10.5, OTMM 16 and OTMM 16.2
Upload files up to 5 TB in Amazon.
Uploads and downloads are multi-threaded for higher output.
Local caching for recently downloaded files.
Automated cleanup services insure seamless caching.
The Cloud Storage Plugin supports deployment within OTMM Amazon Compute Cloud (Amazon EC2), Amazon Elastic Block Store (Amazon EBS),  and Amazon Glacier, as well as third party storage repositories and gateways.
Certified for United States Federal Government Amazon Cloud Storage
Allows using multiple content managers simultaneously. 
Amazon Simple Storage Service (S3)
Windows Azure Cloud Storage
Google Cloud Storage
Verizon Cloud Storage
NetApp 
RackSpace Cloud Files
HGST ActiveScale
Scality 
CleverSafe 
OTMM in the cloud and accessing cloud storage via the Cloud Storage Plugin
Cloud Storage Plugin can be used either for a Media Management instance running on cloud
servers and accessing cloud storage directly or for an OpenText Media Management
instance running elsewhere and accessing cloud storage remotely.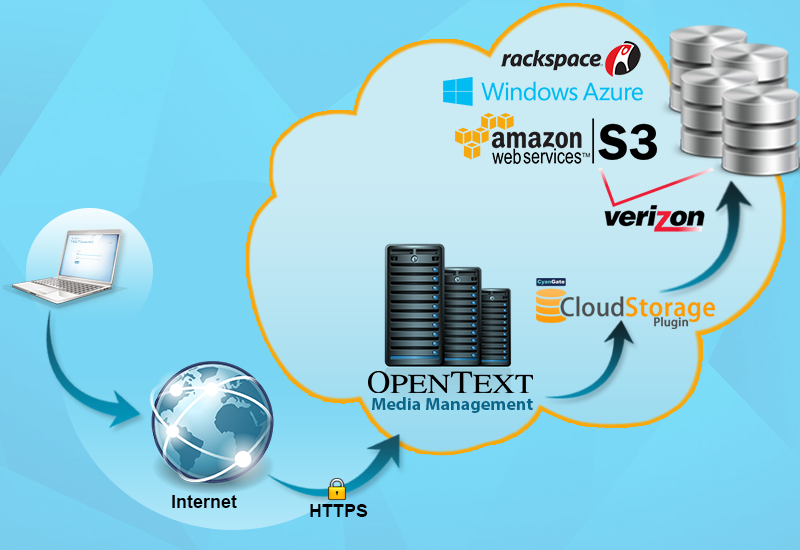 OTMM on Premise and accessing cloud storage remotely via Cloud Storage
Plugin